Filing a 990-N is Easy. So Why Bother with a Certified e-Filer?
March 31, 2020 | 990 filing | 0 Comments

So, you are the treasurer of your non-profit organization, and you're feeling very confident about filing taxes for your organization; in fact, you feel like a File 990 professional. You have no worries, no anxieties, and no stress about tax season for your nonprofit. Easy, peasy, you tell yourself.
But then, you submit your Form 990 and things don't go as planned. Maybe your non-profit organization's finances have changed, which means that your forms will not be identical to the ones you submitted last year.
Maybe this is your first time filing taxes for your nonprofit. And, from what you have heard, it's actually really easy. You think that, because you have no problem doing your personal taxes on your own, non-profit taxes should be similarly easy. But, it is much more difficult to manage your 501 c 3's finances than you might think. If you fail to file your taxes accurately, there could be serious repercussions. Losing your tax-exempt status is not uncommon, but it is easily avoidable by filing taxes for your non-profit organization on-time and with 100% accuracy.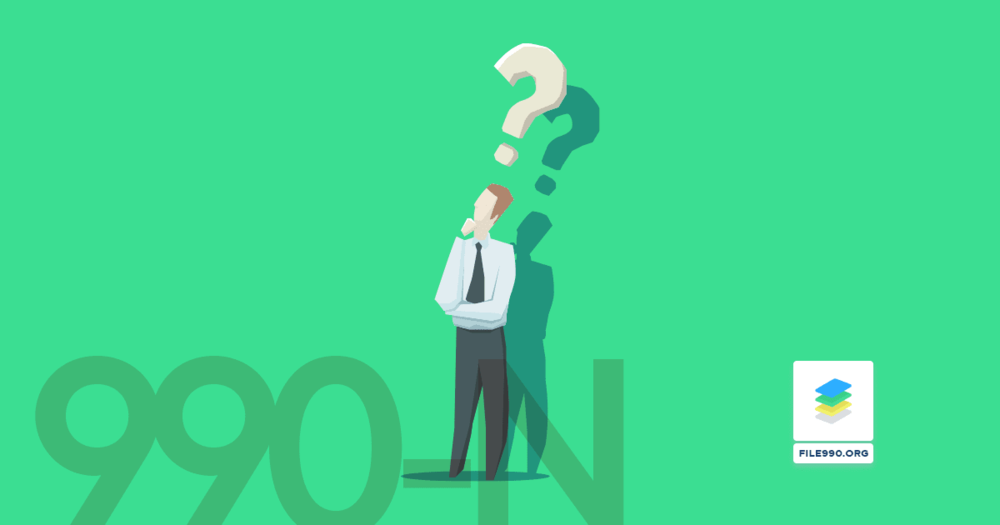 Filing a 990-N
Be sure that you are using the correct form when filing taxes for your non-profit organization. If you need to file a 990-N (also known as an electronic postcard), then your nonprofit must be one whose annual gross receipts are $50,000 or less. In years past, Form 990-N was filed through the Urban Institute, but several years ago it moved to the IRS website, where it remains. You should be thankful that you don't have to fill out the incredibly lengthy full Form 990, which can also be submitted online.
Due to a recent change, the IRS now requires all non-profit organizations to file their File 990 forms electronically. This was enacted under the Taxpayer First Act, which was signed into law in July of 2019. This legislation requires that all tax-exempt organizations — no matter the size or finances — to e-file, starting this year, in 2020. Prior to the Taxpayer First Act, only small and large non-profit organizations were required to file their taxes electronically. However, Form 990-N has only been available electronically, so those who use those forms should notice no significant changes due to this new Act.
Forms are available online, and the 990-N is included among them. You may opt to mail in your form,, but these days it tends to be much easier to e-file. Regardless, regularly filing this form is important. It enables your non-profit organization to maintain its tax-exempt status and acts as an important public document for current and future sponsors, donors, and stakeholders.
Even though Form 990-N is by far the simplest form, it can still be more difficult and intimidating than you might have anticipated. Hopefully, you'll feel better knowing that your non-profit organization is among approximately 1.5 million in the United States. But, you must keep in mind that your organization has its own mission, goals, and challenges. You can't merely follow what other smaller non-profit organizations are doing.
Additionally, even though the Form 99-N itself is fairly straightforward, the IRS could at any time decide to amend it or to change any of the requirements, so you should never truly rely on what you have done in the past.
It certainly helps to be prepared when filing your non-profit organization's yearly taxes. It is never a bad idea to be over-prepared when it comes to finances and the IRS. Also, be sure that the Board of Directors and other relevant members of your non-profit organization are on the same page in regards to your nonprofit's finances. If there is any confusion or anything that needs to be disputed, there will undoubtedly be delays. This could make things even more stressful as you strive to file on time.

Why Bother with a Certified e-Filer?
If you continue to fail to file your non-profit organization's taxes for three consecutive years, then your organization's tax-exempt status could be revoked. Once that happens, it can be a very long, agonizing, difficult process to get your nonprofit reinstated. You won't even be able to appeal the loss of the tax-exempt status. Then, you'll be stuck paying income taxes, and nobody wants that.
Just because you can file a 990-N online doesn't mean that it is easy to do. Nonprofit tax software is here to help with this. File990 is a certified [by the IRS] e-filer that offers electronic filing services for non-profit organizations of all sizes. File990 enables you to safely, quickly, and easily file your Form 990-N. Once you have completed the form, it is then immediately sent to the IRS. There is no waiting period.
File990 utilizes the highest level of security to protect all of your sensitive information, and the equivalent amount of security is used when submitting your tax forms to the IRS. Some online tax services lack the necessary level of security, which is essential when it comes to finances.
If you file your annual taxes late, you can receive late fees. The fee depends on your gross receipts, of course, but you can expect to pay a hefty price for failing to file Form 990-N on time (in the thousands, for some organizations). With File990, you can avoid late fees. You will receive a reminder every year when it is time to file your taxes, so you don't have to worry about submitting your taxes late or forgetting them altogether.
File990 also saves your information, thereby making it simpler to e-file taxes for your non-profit organization annually. There is no need to put in all the necessary information yet again, especially if little has changed in your organization in the past year. That said, if your organization's finances have increased, you may need to File a different tax form. Or, maybe your non-profit organization expands and creates new chapters. That's when File990's Enterprise system comes in handy.
Have questions or want to learn more about File990's services? (859) 309-3641 / info@file990.org.