IRS Form 990: You Can Do This
November 2, 2019 | Uncategorized | 0 Comments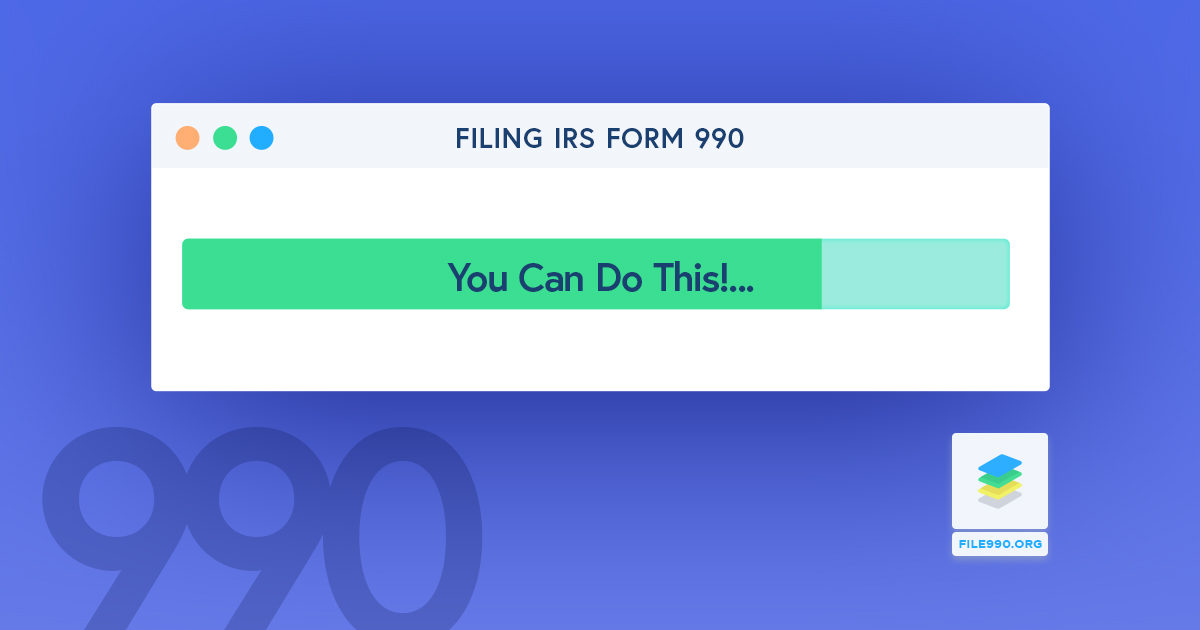 In journalism, there's a foundational rule to the delivery of information:
Who, what, when, where, why, and how.
These elements form the crux of any story, but more importantly, they give us readers a clear understanding of what's most important.
That understanding gives us knowledge.
That knowledge gives us assurance.
And that assurance gives us confidence.
When dealing with the IRS in any capacity, the experience can be infuriating. And reams of guidelines and if/then statements can leave even the most meticulous scratching their heads in search of the next step.
There's even a course provided by the IRS just to teach people how to file.
For many non-profit organizations filing the IRS Form 990, what may seem like a simple tax-exemption can quickly become a bureaucratic nightmare if you haven't properly prepared and assembled the right forms.
And nobody likes to learn the hard way.
Thankfully, you won't have to.
Here's our complete breakdown of IRS Form 990 to give you the confidence and self-assurance that yes, you can do this.
Who Has to File?
Any non-profit organization (501 (c) (3)) with gross receipts that are equal to or more than $200,000 OR that hold total assets equal to or more than $500,000.
That means if you only collected $100,000 in donations, BUT you own a house under your organization that's worth $600,000, then yes, you must file.
However, keep in mind that there are certain conditions under which a special organization, religious institution, or political organization will be exempt from filing an annual IRS 990. The word to highlight there is "annual." Everyone will still have to file, some may just file less frequently than others, depending on their specially recognized status.
What Is the IRS Form 990?
The IRS Form 990 is a tax-exemption filing performed by charitable and non-profit organizations (typically 501 (c) (3)) for the purpose of retaining their tax-exempt status. As we mentioned above, aside from very special organizations like religious institutions, special organizations, and political organizations, the IRS Form 990 must be filed annually.
Where Can I File?

If your organization has more than $10 million in assets, you MUST file electronically. However, if you don't meet this threshold, you can still file online through an IRS-authorized e-file provider.
Not sure where to find an IRS-authorized e-file provider?
When Is the Deadline for IRS Form 990?
The deadline for IRS Form 990 is one of these two deadlines—depending on your organization.
May 15th

if your organization is following the Calendar Tax Year.

The

15th day of the 5th month

after the last month that concludes your fiscal tax year.

For example, if your fiscal tax year ended in April, you would file your taxes on September 15th).
Simple, right?
And yet, every year, 7 million Americans forget to file their taxes.
So, to inspire you, let's talk punishments and penalties to late filings.
Here's how it works…
If your organization has gross receipts less than $1,000,000 for the tax year and you file late:
You'll be imposed a penalty of $20 per day for each day the return is late.

The max penalty is $10,000 or 5% of the organization's gross receipts—whatever is less.
Special note:

If your organization's gross receipts exceed $1,000,000, that daily penalty

shoots

up to $100 per day, with a maximum charge of $50,000.
And if you fail to file for more than three years here's what happens next…
You lose your tax-exempt status.

You have to reapply and pay filing fees.
But hey, sometimes things slip through the cracks right? It happens.
If you or your organization end up in a position where you know you'll fail to meet your required deadline for filing, there's a simple solution.
If you do that BEFORE your original deadline, you'll get an additional six-month extension on your original deadline.
So, be proactive in your filing. If you know you aren't going to have enough time to get your documents together, ask for more. It'll save you money.
Why Do I Need to File IRS Form 990?
Simply put, you'll lose your tax-exempt status as a non-profit organization if you don't.
If you didn't know already, the government takes the collection of its taxes VERY seriously—up to the point that not paying them will land you in jail for a very long time.
That means that for the government to willingly allow an organization to be exempt from taxes, there needs to be a pretty good reason. For organizations that are non-profit, and typically charitable in nature, the government will allow these entities to request a tax-exempt status for a period of a year.
After that year is up, any non-profit organization must file again to retain its tax-exempt status.
How Do I Go About Filing?

There's a short and a long answer to this question.
Here's the long answer:
You can read this 100-page instruction manual courtesy of the IRS.
This will require you to gather all the appropriate forms, schedules, and supplemental documents, then physically mail them.
Here's the short answer:
You can hire an IRS-authorized e-filer to walk you through the documentation process and file them for you.
One is more cost-efficient, timely, and reliable, the other deals directly with the IRS.
Some Things to Remember When Filing
Just because you've filed IRS Form 990 doesn't mean your job is finished. If there are any discrepancies or vital missing information, your submission will be sent back to you with instructions on how to remedy the error(s). So, it's very important to make sure the documents you submit are in their most complete form.
Prior preparation will save you time and money.
Two vital resources we could all stand to have a little bit more of.
Are you ready to file your taxes but unsure where to start?
Click here to contact us directly for a simpler solution.