What is an IRS Postcard?
June 10, 2019 | 990 filing | 0 Comments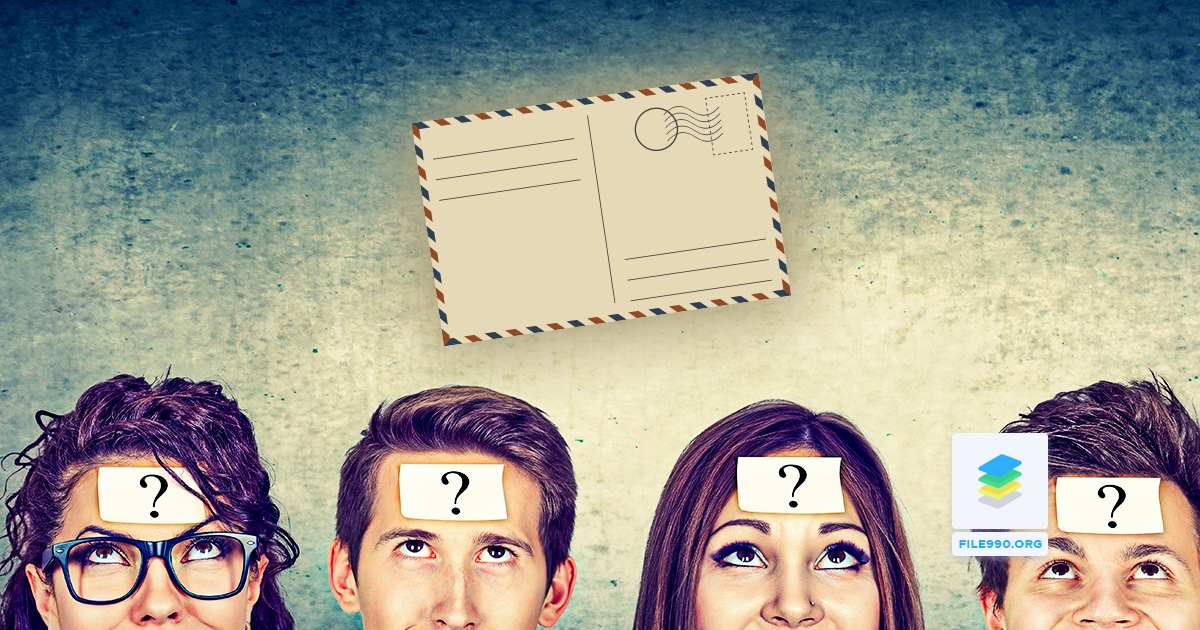 Well, better yet, let's start with what it isn't.
It's not a postcard.
In fact, it's not even a paper application.
The IRS "postcard" is actually the IRS Form 990-N. It's a category within the IRS Form 990 filings, similar to the Form 990-EZ.
So, what's the difference between an IRS "Postcard" and IRS Form 990 and 990-EZ?
A lot, actually.
Here, settle in. We'll take you through everything you need to know about IRS 990-N and how to file it if you qualify.
What is the IRS Form 990-N?
The IRS form 990-N is a tax form introduced in 2008 and designed for small tax-exempt organizations to file for their tax-exempt status with the government.
These small organizations also must have less than $50,000 in gross annual receipts for the fiscal year to qualify for this filing status.
And here's what makes the Form 990-N so special:
It's electronic (zero paperwork required).

It's easy (less than eight pieces of required information; more on that later).

It's free.
That's right. No fees or special software required.
As long as you have your financial documents in order, you can file the IRS 990-N here.
Who has to file the IRS Form 990-N?
As we mentioned before, if your nonprofit has less than $50,000 in gross annual receipts for the fiscal year, you must file the IRS Form 990-N. However, although you can choose to file the IRS Form 990 or 990-EZ instead of the IRS 990-N, you are not required to submit any alternative filing type IF you choose to file the IRS 990-N.
Translation?
You can file the IRS 990-N, or choose to file another form (990 & 990-EZ).
Special Note: Just remember that whichever filing type you choose, you will ALWAYS have to submit a filing every fiscal year. This is an annual exemption application. Don't forget that.
However, there are a few notable exceptions to this requirement.
They are the following:
Organization included in a group return

Private foundations required to file Form 990-PF

Section 509(a)(3) supporting organizations required to file Form 990 or Form 990-EZ

Religious institutions, their integrated auxiliaries, and conventions or associations of churches are also exempt from this filing requirement.
Although these exempt categories will likely not apply to you, it's good to review them to make sure you aren't filing a return unnecessarily.
Who cannot file the IRS 990-N?

After recognizing whether your organization has to file the IRS 990-N or not, it's worth noting the organizations that can't.
If your organization falls into any of these categories it cannot file the IRS 990-N:
It has gross receipts over $50,000

If your organization just happened to have a rough year and you normally have gross receipts greater than $50,000, you

must

file the Form 990 or Form 990-EZ.

Private foundations must file Form 990-PF

509(a)(3) supporting organizations must file the Form 990 or 990-EZ instead

Section 527 (political) organizations are required to file an annual exempt organization return or must file Form 990 or Form 990-EZ.

Other ineligible organizations include:

Section 501(c)(1) – U.S. government instrumentalities

Section 501(c)(20) – Group legal services plans

Section 501(c)(23) – Pre-1880 Armed Forces organizations

Section 501(c)(24) –ERISA sec. 4049 trusts

Section 501(d) – Religious and apostolic organizations

Section 529 – Qualified tuition programs

Section 4947(a)(2) – Split-interest trusts

Section 4947(a)(1) – Charitable trusts treated as private foundations
If you find your organization checking off any one of these boxes, then you'll be filing the IRS 990 or 990-EZ.
When is the filing date for the IRS 990-N?
The IRS Form 990-N is due every year by the 15th day of the 5th month after the close of your tax year. You won't be able to file form 990-N until after your tax year ends.
So, for example, if your fiscal year ended in January of 2019, your due date for your IRS Form 990-N tax filing would be June 15th, 2019.
If your due date happens to fall on a Saturday, Sunday, or a legal holiday, the due date will be the next business day.
What happens if my filing is late?
First, the IRS will send you a reminder notice to the last address they have on file.
Although there is no penalty assessed for filing the Form 990-N late, if you fail to file anything for three consecutive years, you're going to automatically lose your organization's tax-exempt status—which means you'll have to reapply to be reinstated. This revocation of your organization's tax-exempt status will occur on the filing due date of your third consecutively-missed year.
What do I need to file the IRS Form 990-N?

Thankfully, the Form 990-N is pretty simple. All you need are these eight pieces of key information.
Employer identification number (EIN), also known as a Taxpayer Identification Number (TIN).

Tax year

Legal name and mailing address

Any other names the organization uses

Name and address of a principal officer

Web site address if the organization has one

Confirmation that the organization's annual gross receipts are $50,000 or less

If applicable, a statement that the organization has terminated or is terminating (going out of business)
And that's it! We said it was easy, didn't we?
What happens if I'm having trouble filing?
Start with these instructions.
If you're still having trouble, here are a few troubleshooting tips to try:
Calling the IRS Customer Account Services at 877-829-5500 (toll-free)

Close multiple browsers when registering.

Use a desktop or a laptop to file, no smartphones.

Use correct text characters when registering and filing.

Check your spam/junk email folders for IRS correspondence.

Use a non-networked computer.

Log out and restart your computer.
If you get the error message that your EIN is wrong when you typed it in, your organization may not be listed as a tax-exempt organization. If that's the case, you need to contact Customer Account Services (see number above) and ask for your organization to be set up to allowing the filing of the Form 990-N.
After this, give the IRS six weeks to update their records before filing. There are no late penalties so you can file at any time, just be sure you do it in a reasonable timeframe or you'll risk getting your tax-exempt status revoked after three consecutive years.
How long will it take to approve my IRS 990-N filing?
Months.
The IRS's website is a bit vague on the issue but expect a long wait for a clear approval on your organization's tax exemption status.
How do I file?
You have two options:
Why use File 990?
It's convenient.
The biggest problem nonprofits face regardless of size is the sheer amount of work they have to do just to keep the program going. As a result, deadlines, communication, record-keeping, and maintaining an accurate organizational structure go out the window when times get tough or busy.
This means important designations such as being tax-exempt are left vulnerable to expiration or revocation.
If you want a system that saves you from having to live a finger during tax-time, and instead allows you to focus on the growth and expansion of your organization, choose File990.
If you're ready to learn more about simplifying your life for tax-season
Click here to contact us directly.