What is the IRS Form 990?
March 29, 2020 | 990 filing | 0 Comments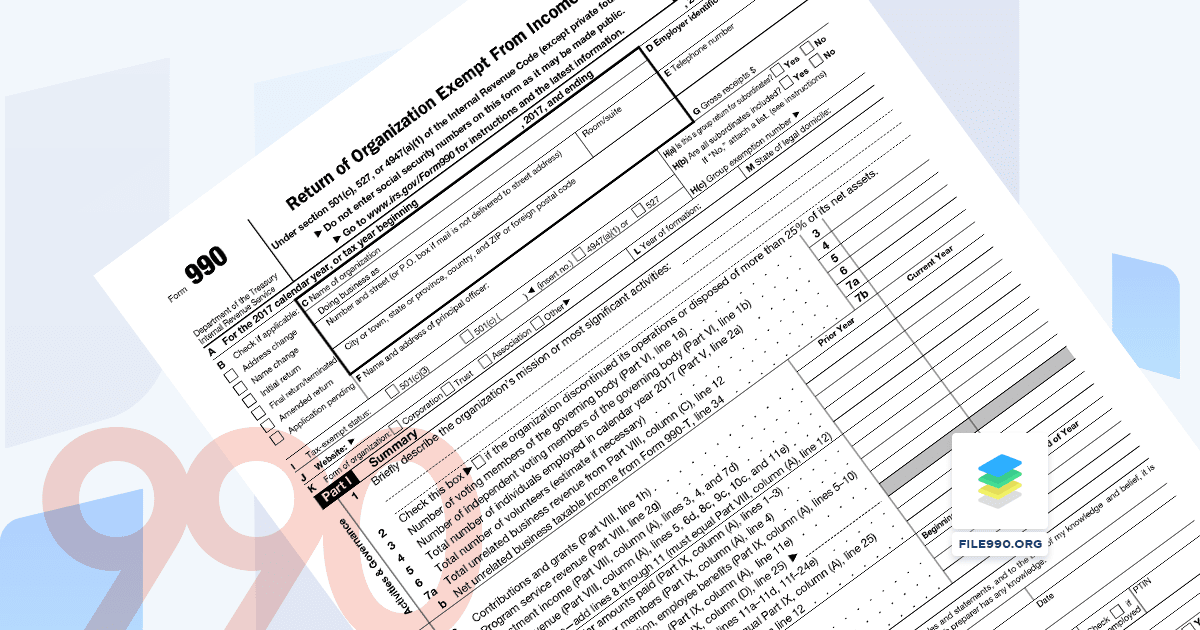 The short answer:

It's a tax-form application used by nonprofit 501(c)(3)
organizations to show their financial records and retain their tax-exempt status.

However, if you're a nonprofit director, treasurer, or simply researching nonprofit tax regulations before you pull the trigger on forming your own, you'll want the long answer for this one.

Here's everything you need to know about the IRS Form 990.

But first, let's reiterate…
What Exactly is the IRS Form 990?
As we mentioned above, the IRS Form 990 is a tax-form application used to help nonprofit businesses keep their tax-exempt status.

That "tax-exempt" part is key.

Here's why it's important.

Because nonprofit businesses can't make or sell products for a profit, they're limited in the ways they can generate revenue. Remember, a traditional business's profits are taxed, so tax-exempt nonprofits require a different set of rules to account for their yearly revenue.

For many nonprofit organizations, their sources of income can vary between…

Donations
Membership dues
Volunteer services (car washes)
Activities that benefit members (bake sales)
Sale of donated merchandise (thrift shops)
Rent or sale of donor lists (marketing leads)
Along with the privilege of being exempt from federal and state property & income taxes, the IRS requires nonprofits to be fully transparent with their books—revenues, staff, organizational missions, etc.—in order to justify their continued tax-free status.

And this is where the IRS Form 990 comes in.
How Does It Work?

The IRS Form 990 is an application comprised of questions surrounding the identification, financial status, history, and purpose of a nonprofit. The details of these questions are critical and heavily-scrutinized, so it's important to be thorough in your organization's record keeping.

How did you record the year's charitable donations?

Was it an accurate accounting?

Do you have receipts?

These specific details are important because they'll affect what you're required to include in your gross receipts for the year.

Why's that important?

Because your gross receipts will determine your filing category.

For more information on what kind of donations count towards your total annual gross receipts, review the IRS's Charitable Contributions Form

Although the IRS Form 990, is only one form, it does have three individual variations: Form 990-N, Form 990-EZ, and Form 990. Each of these forms applies to nonprofit organizations of differing sizes.

Here's the breakdown:

Form 990-N

Filed by organizations with gross receipts less than or equal to $50,000
Must be filed digitally
Form 990-EZ

Filed by organizations with gross receipts less than $200,000 and total assets less than $500,000
Can be filed physically or digitally
Form 990

Filed by organizations with gross receipts greater than or equal to $200,000 or total assets more than or equal to $500,000
Can be filed physically or digitally
When filing, you'll want to pay special attention to these form variants as filling out the wrong one can be a costly mistake. Here's why.

You'll likely receive a fine.

When filing the IRS Form 990, you must abide by one of the two deadlines below.

Option 1:

May 15th if your organization is following the Calendar Tax Year.

Option 2:

The 15th day of the 5th month after the last month that concludes your fiscal tax year. For example, if your fiscal tax year ended in April, you would file your taxes September 15th)

If you believe you'll miss your deadline as you gather the necessary documentation, you can always submit a request for an extension. Making a request for an extension will give you an additional six months to file your application, however, you MUST FILE BEFORE YOUR DEADLINE.

Failing to file your extension request on time will count as a failure to make your deadline. Within those conditions, a fine will be assessed.

Here's how it shakes out:

If you file late and your organization has gross receipts less than $1,000,000 for the tax year…

You'll be imposed a penalty of $20 per day for each day the return is late.
The max penalty is $10,000, or 5% of the organization's gross receipts—whichever is less.
Special note: If your organization's gross receipts exceed $1,000,000, that daily penalty shoots up to $100 per day, with a maximum charge of $50,000.
It's also important to note that these penalties will get worse if you fail to file for more than three years.

If you take too long to file after missing the deadline, you can expect:

Loss of your tax-exempt status
To reapply and pay new filing fees
To a nonprofit, losing your tax-exempt status can be devastating to cash flow—and that's not even counting the additional losses from accumulated fines.

The loss of tax-exempt status can severely hamper your operations, so it's best to retain this status rather than lose it for a year and be forced to reapply. Rather than paying taxes again, keep your deadline top-of-mind, and if you feel at risk of missing it, apply for an extension immediately.

Now, if you're confident and ready to submit your filing, there's one question left.
How Do I Gain Tax-Exempt Status?
Well, the first step is to fill out the form above. Not sure, where to start? Not a problem.

The IRS provides a 100-page instruction document to guide new and returning nonprofit leaders along the application process (see the link above).

Not interested in wading through a bureaucratic maze of IRS tax forms? You aren't alone. That's why many nonprofits simply outsource this process to a responsible—and more importantly, IRS-approved—electronic e-filer they can trust.

And luckily, you're looking at one.

With an IRS-approved tax e-filer, you give yourself the opportunity to focus on what's important: operating your nonprofit efficiently and furthering its expansion.

Instead of spending hours of your personal time outside your office studying reams of U.S. tax code and nonprofit regulation, spend it wisely by hiring someone with the knowledge, technology, and experience to take care of it for you.

If you're ready to knock out this IRS 990 filing and get back to the work that matters
give us a call or click here to contact us directly.