Form 990 Online and Other Things We Now Do in 2019
November 2, 2020 | 990 filing | 0 Comments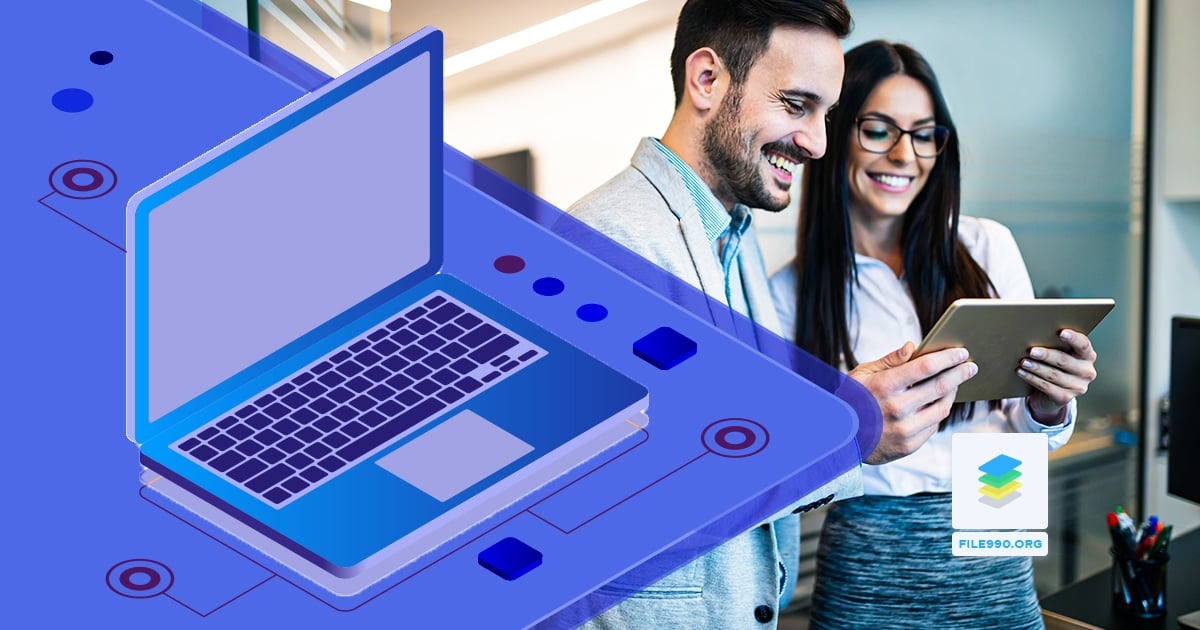 You can file your form 990 online. This we know.
The real question is: What don't we do on the internet these days?
Social media, software, and increasingly powerful handheld technology dominate our very existence from day to day. You must leave your phone and go hiking in the woods to escape it all.
Yet when you return to civilization, you have 100 missed calls, texts, and emails waiting for you. Ugh.
The demands of a busy professional always bring you back to reality.
If you're reading this, chances are you manage the finances for a 501(c)(3) or other nonprofit organization, and you must grapple with the responsibility of filing your 990 IRS forms to maintain tax-exempt status.
However . . .
With the right tools, getting your non-profit finances and tax filing right can be easier.
It's nearly two decades after the turn of the century, and we have developed some pretty good ideas about how to streamline your digital financial management process.
File 990 wants to help guide you now and into the future. Let's talk about Form 990 Online and Other Things We Do in 2019.
Building Your Nonprofit's Online Presence
There are lots of strategies to promote your nonprofit and its fundraising campaigns, including events, direct-mail fundraising letters, gift-matching, seeking volunteer grants, forming local and national partnerships, and more.
But what are you doing toward boosting your nonprofit's presence online? How do your organization's website, affiliated pages, and blogs rank on Google and other search engines? Do you have a strategy for social media, email campaigns, etc.?
These are all questions you'll have to address at some point. In a digital world, having a prominent online presence can truly boost your visibility to potential donors, volunteers, and other stakeholders.
If you aren't showing up near the top of page one on Google results, chances are you aren't maximizing your web presence. And if your website isn't attracting visitors, you're missing out on converting new prospects.
Here are some fast and easy ways to get your nonprofit's online presence growing:
Do keyword research

. "SEO," or Search Engine Optimization, means creating content targeting keywords your prospective donors and stakeholders will be most likely to search for online.

Blog

. They say content is king. They're right. Blog about topics your donors care about, and build a network of linked content to dominate those topics online.

Diversify your content across channels

. Publish creative and educational

ebooks

to drive people toward your brand. Leverage popular

social media

platforms for exposure, like Facebook, Instagram, and Twitter. Use

text messaging

or

phone apps

to connect with and entice donors in innovative new ways.
Learning how to boost your online presence can make a substantial difference over time. And you can integrate these efforts directly into your overall marketing strategy.
Awesome All-Around Web Tool Alert: Check Out HubSpot's tools and strategies for nonprofit web-based marketing and beyond.
Nonprofit Financial Management Online
Before you even get to tax season, there must be a system in place for every nonprofit of efficient, consistent financial management and budgeting.
You must keep track of your overhead and salaried positions, costs like events and promotion, donor retention and potential growth, all assets and gross receipts, and more.
It's a lot, and the more your nonprofit grows, the more challenging it gets.
Luckily, we've progressed much as a society since the days of thick ledgers and quill pens. Most organizations now run their budget with an online-based financial management software system.
LegFi offers budgeting software that can bring you the powerful finance tools you need all in one place.

A few of the most useful LegFi features for your nonprofit include:
Creating a Fundraising Campaign Landing Page to Process and Track Donations. This feature is perfect for when your nonprofit has a specific campaign effort in mind, and you want to give new donors an easy and straightforward way to contribute.
LegFi's software allows processing and management of one-time or recurring donor gifts, the ability to share and promote campaigns, and donation tracking tools.
Building a Budget and Tracking Expenses. LegFi's software is designed to help with the heavy lifting of cobbling together an annual budget for your organization. You can also link to your organization's bank account for outgoing expenses; view real time budget vs actual, profit vs loss, budget overview, and aging of accounts; and compare actual and estimate revenue and expenses.
Collecting Membership Dues. Does your nonprofit collect membership dues? If so, this feature allows you to collect dues electronically, as well as sending out invoices and payment reminders to members.
Security. All financial officers should prioritize minimizing the chance of becoming a victim of cyber and financial crimes. This is especially true of non-profit organizations who are beholden to their donors and other stakeholders.
LegFi software offers 256-bit encryption of your data, plus automatically updated data backup cloud storage and PCI compliance for credit card transactions.
Awesome Online Financial Management Tool Alert: Check out a list of full LegFi software features here.
In addition, LegFi software offers a crucial service no nonprofit can ignore: tax form 990 filing with File 990.
Filing Your Form 990 Online

If you plan on keeping your tax-exempt status, you must file your 990 form every year. Missing the deadline puts you in danger of having to pay taxes and accumulating fines to the IRS.
According to the IRS website, "Form 990 is due on the 15th day of the 5th month following the end of the organization's taxable year."
Depending on your nonprofit's total gross receipts and assets, and other identifiers set by the IRS, you might have to file:
990-PF (for private foundations)

Another form
Make sure you know which form you must file. While you can file your own forms each year, this can be a hassle to keep track of, especially if you've got multiple chapters and your resources are better directed elsewhere.
Awesome 990 e-Filing Alert: File 990 is the industry leader in nonprofit tax form e-filing.
File 990 offers e-filing services for 990-N and 990-EZ forms, sends you alerts when it's time to file, and even offers an enterprise option to track all your chapters' tax filings throughout the year, so you never have to worry.
Have questions about your 990 filing or want to learn more about our e-filing services? Call us at (859) 309-3641 or email info@file990.org.